CONVERGE™ Webinars
zolpidem for sale
buy klonopin no prescription
Accurate and robust injector flow and spray models, ensuring grid-convergence, are a step towards predictively simulating the fuel air-mixing and subsequent combustion process in the internal combustion engine. Traditionally, these studies have been conducted relying on several assumptions for the atomization process, or by neglecting the in-nozzle flow features. This webinar shows progress in simulating the highly transient flow inside the injector nozzle, pointing out the effects of needle off-axis motion (measured using the x-ray source at Argonne National Laboratory) on multi-hole jets. Modern low-temperature combustion systems are also characterized by multiple injections wherein it is critical to capture the injection transients. Using very fine spatial and temporal resolutions, the start and end of injection transients processes were simulated for an injector and validated against experimental data available in the literature. The importance of including dissolved air in the fuel for better predictions of the multi-phase flow features inside the injector will also be demonstrated. An Eulerian-Eulerian coupled nozzle flow and spray model was developed to uniquely capture the influence of in-nozzle flow on the ensuing spray. This coupled Eulerian multi-phase model is discussed in detail along with several validation studies and comparisons to the classical Lagrangian approach. All these expensive yet unique simulations were performed using the High Performance Computing Clusters at Argonne National Laboratory and CONVERGE™ CFD software. 
ultram online pharmacy
Past Webinars
tramadol for sale
 
buy ativan no prescription
Learn how you can create and analyze ICE simulations with hundreds of time steps and hundreds of thousands of simulated particles and interactively explore your high fidelity data to improve understanding of your results.
soma online no prescription
An innovative transient post-processing approach for ICE simulations
ambien online no prescription
In the quest to improve simulation accuracy and fueled by the rise of HPC, simulations are being performed on ever finer meshes and with larger number of particles. In the case of internal combustion engine CFD, which requires very long transient runs in order to reach convergence, this has become problematic due to the huge amount of data and the time it takes to review it. This presentation will describe, through an ICE case study simulated with CONVERGE, an innovative post-processing approach that allows interactive analysis of several hundreds of time steps, containing hundreds of thousands of simulated particles.
valium online pharmacy
Combined with more traditional methods (transient animations, time history plots…), this interactive investigation technique will provide unprecedented insight to complex transient flows.
buy alprazolam no prescription
xanax online without prescription

Next up in our webinar series, Convergent Science and Rescale partner up to detail when CFD in the cloud is beneficial to your organization as well as run through a demo of CONVERGE™ in the cloud.
CONVERGE™ in the cloud is designed to help small and midsize companies keep their costs down with a pay-per-use program while still benefiting from one of the most innovative CFD packages in the market place. Existing users of CONVERGE™ can also use this service as an overflow utility when demand for CFD increases.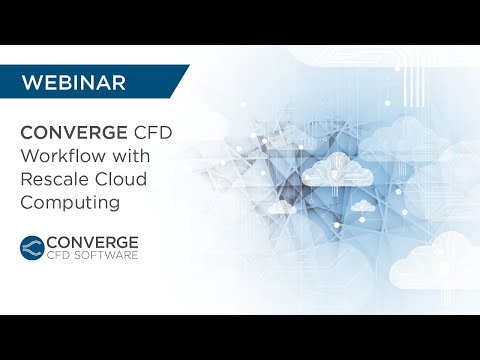 Gas turbine and burner manufacturers are increasingly incorporating combustion Computational Fluid Dynamics (CFD) into their design lifecycles. Combustion CFD supporting low emissions/fuel flexible designs has made substantial advancements recently with the use of unsteady LES simulation to supplement conventional steady-state RANS simulations. However, mesh generation in the CFD workflow remains a painful and expensive area for improvement identified by engineers and managers. Traditional CFD mesh generation takes time and represents a disruption in the CFD engineer's workflow as it often requires specialized expertise that is outsourced. Engineers must also guess the result of their simulation up front in order to ensure sufficient mesh resolution where the action is happening. Recently, many IC engine manufacturers have adopted the adaptive mesh generation approach in CONVERGE™ CFD and obtained a step improvement in speed, continuity and effectiveness of their combustion CFD simulations. The automated Cartesian mesh in CONVERGE™ provides improved speed and accuracy over highly skewed mesh approaches. This automated mesh generation technique is now being applied to continuous combustion in gas turbines and burners.