CONVERGE™ Webinars
Upcoming Webinars
Register here. 
Past Webinars

Next up in our webinar series, Convergent Science and Rescale partner up to detail when CFD in the cloud is beneficial to your organization as well as run through a demo of CONVERGE™ in the cloud.
CONVERGE™ in the cloud is designed to help small and midsize companies keep their costs down with a pay-per-use program while still benefiting from one of the most innovative CFD packages in the market place. Existing users of CONVERGE™ can also use this service as an overflow utility when demand for CFD increases.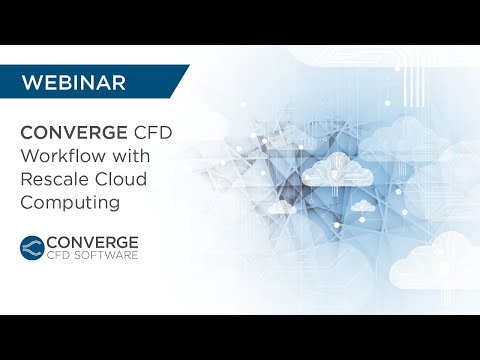 Gas turbine and burner manufacturers are increasingly incorporating combustion Computational Fluid Dynamics (CFD) into their design lifecycles. Combustion CFD supporting low emissions/fuel flexible designs has made substantial advancements recently with the use of unsteady LES simulation to supplement conventional steady-state RANS simulations. However, mesh generation in the CFD workflow remains a painful and expensive area for improvement identified by engineers and managers. Traditional CFD mesh generation takes time and represents a disruption in the CFD engineer's workflow as it often requires specialized expertise that is outsourced. Engineers must also guess the result of their simulation up front in order to ensure sufficient mesh resolution where the action is happening. Recently, many IC engine manufacturers have adopted the adaptive mesh generation approach in CONVERGE™ CFD and obtained a step improvement in speed, continuity and effectiveness of their combustion CFD simulations. The automated Cartesian mesh in CONVERGE™ provides improved speed and accuracy over highly skewed mesh approaches. This automated mesh generation technique is now being applied to continuous combustion in gas turbines and burners.